Materials to Use in Your Classroom
Life on a Cattle Ranch: A Child's Perspective DVD

Local ranch children tell the story about life on the ranch, while a series of photographs and video clips are shown.  Please visit our Beef Promotion Store to order a copy or click the Order link below.
See the attached pdf with more supplemental activities.
Click here to order
Print Lessons and Materials to Use in Your Classroom
Below are a variety of lessons that can be used by a teacher or guest speaker in a classroom to teach about beef and the cattle industry.  Most of the lessons have reproducible worksheets ready to copy and use.
There are many great books to help introduce topics surrounding ranch life.  This list includes many fun fictional stories, as well as non-fiction titles.
A set of lessons to teach about cowboy tools and equipment.  The activities include completing a KWL chart about cowboy equipment, a "race" game to create a cowboy, and a memory game to play in small groups.  Follow up with creating their own cowboy gear!
A quick sheet of how to make your own chaps, vest, spurs, and bandana.  Get ready to play cowboy!
A lesson that relates branding to student's lives.  The students learn to read brands and then create their own brands and practice "marking" their papers for the day.  Follow up with The Round Up Game for a fun application of branding.
Target Audience: K-4th
A physical education game to teach about the role of cowboys on a ranch and the role of branding.
A sequence of lesson plans for teaching about the unique job that cattle perform . . . turn grass into meat . . . a product that humans can eat!  The lessons include a fun anticipatory set to grab the students attention and an "equation" model of how we get the food we eat.
Target Audience: K – 3rd
A set of lessons to show the diverse products that cattle give to enrich our lives!  The lessons include whole group activities, center activities, and a followup homework project.
Target Audience: K-4th
Printables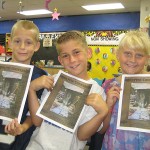 Presentations for CattleWomen Guest Speakers
Cowboy Equipment – "Cowgirl Amanda" Presentation

A great presentation when you need to hold the attention of a large number of students.  This works well as a great introduction into a Cowboy Day.
A day that is centered around ranch life.  Students spend time at four different centers.  You can also incorporate in aspects from other lesson plans on this site to create an entire day.
Celebrated on March 2nd, Read Across America Day is a great opportunity to read a story to a classroom.  See the attached tips for your read aloud and check out the book list listed on this page for ideas of great ranch books.
Basic outline of a field trip day to a ranch.
Here are a few actual classroom answers from students in Kern County . . .
Where does your hamburger for dinner come from?
"From the grocery store. I go there with my mom and we get all the food."
– 1st grade student
"I get a hamburger at McDonald's. They have really good ones with cheese."
– Kindergarten student
"I think it comes from a cow. Do they get it out like milk?"
– 1st grade student
---
Some of the students other thoughts on ranch life and cattle . . .
"The ones with horns are the bulls. They are the mean ones that get you if you wear red."
– 2nd grade student
"Cowboys always have guns…cause the cowboys with black hats on are the bad ones and the good ones have to shoot them."
– 3rd grade student
"I don't eat meat. It is all fat and nothing good. That's why I am a veterinarian." (spelling is not incorrect – she stated veterinarian, not vegetarian)
– 1st grade student
"Yes, these cows (holsteins) give us milk. And the ones in the next aisle (jerseys) give us chocolate milk."
– Teacher during a tour at the KC Fair