---
Fundraiser Dinner Tickets
Join the KC CattleWomen for a delicious Tri-Tip Dinner on Saturday, May 28th at the Rancho Rio Equestrian Center.  Buy your tickets today.
---
California Ranch Raised Kids
This book features ranch kids from throughout California and right here in Kern County.  It is the perfect coffee table book (hard cover) with beautiful photos taken by Seth Joel and interesting commentary from the kids by Charlie Holland.
Price: $50
---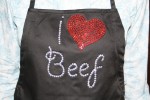 Beef Rhinestone Apron
Show your love of beef while your prepare your favorite recipe in this "bling" apron!
Price: $25
---
Donate to the Kern County CattleWomen
Do you believe in the mission of the Kern County CattleWomen?  Help us support local students through educational scholarships and preserve cattle ranching in our community.  Make a donation today.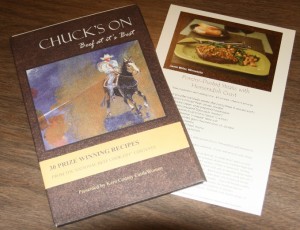 Beef Recipe Packet
Enjoy recipes from the National Beef Cook Off in your own kitchen. Each recipe card includes a full color picture and recipe on each side.
Price: $5.00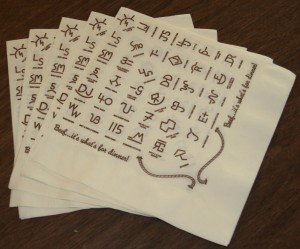 Brand Napkins
Set your table featuring cattle brands from Kern County. This dinner napkin is off white with brown brands and lettering.
There are 50 napkins in each pack.
Price: $6.00
---

Brand Mugs
Each brand mug features brands from a different area of Kern County. The brands are organized by the region of the county that the ranches are in. There is a mug for the South, the West, and the East, and two mugs for the Northern region of Kern County. (Dishwasher safe)
Price: $8
NEW STYLE!