The beef that you eat comes from our families to yours.  More than 97% of cattle ranches in the United States are family owned and operated.  The families that raise beef are dedicated to caring for their animals, land, and continuing the traditions that generations before them began.  Cattle harvest the grass on the hillside and convert it into a nutrient dense food source for us to enjoy.  More than two-thirds of land used for grazing in the United States is not suitable for raising crops, however, cattle are able to graze the grass and provide us with beef.
For more information on how cattle are raised and the people who raise them visit www.explorebeef.org

Congratulations to our
2015 Cattleman and CattleWoman of the Year . . .
Keith Grant and Julie Barnett
Thank you for your dedication to our community and to our industry.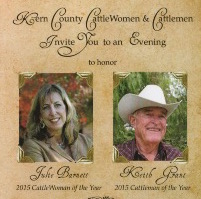 FEATURED RECIPE 

Chimichurri Steak Wraps
INGREDIENTS
12 ounces grilled beef steak, cut into slices
3 cups fresh baby spinach
1/2 large red bell pepper, cut into thin strips
4 medium whole wheat tortillas (8 to 10-inch diameter)
Chimichurri Sauce:
1 cup fresh parsley leaves
2 cloves garlic
3 tablespoons olive oil
1 tablespoon red wine vinegar
1/4 teaspoon salt
  INSTRUCTIONS: 
Place parsley and garlic in food processor or blender container. Cover; process until finely chopped. Add oil, vinegar and salt; process just until blended.
Spread each tortilla evenly with Chimichurri Sauce, leaving 1/4-inch border around edge. Top with equal amounts spinach, bell pepper slices and beef slices on top two-thirds of tortilla. Fold bottom of tortilla up over filling. Fold right and left sides to center overlapping edges; secure with wooden picks; if desired.
Total Recipe Time: 15 to 20 minutes
Makes 4 servings
This and other easy fix beef recipes are available at www.beefitswhatsfordinner.com

Become a member of Kern County CattleWomen!
Contact us for more information or download an application here.
To learn more about the California CattleWomen visit www.cattlewomen.org.
To learn more about the American National CattleWomen visit www.ancw.org.