---
Our Mission
The Kern County CattleWomen shall strive to preserve ranching in our county, and work to secure a viable and prosperous future for our beef industry through education.
---
The beef that you eat comes from our families to yours.  More than 97% of cattle ranches in the United States are family owned and operated.  The families that raise beef are dedicated to caring for their animals, land, and continuing the traditions that generations before them began.  Cattle harvest the grass on the hillside and convert it into a nutrient dense food source for us to enjoy.  More than two-thirds of land used for grazing in the United States is not suitable for raising crops, however, cattle are able to graze the grass and provide us with beef.
For more information on how cattle are raised and the people who raise them visit www.explorebeef.org.
KCCW 75th Anniversary Celebration
It's our 75th anniversary and we are celebrating! Join us October 6-8th, 2023 for a celebration of cowgirls, horses and history. We will gather in Tehachapi, CA at the Bear Valley Equestrian Center on Friday Night at 5 pm, with a cocktail party hosted by our Baby Belles. Saturday begins with breakfast and a trail ride to a local winery for lunch and wine! Saturday Night we will enjoy a BBQ beef dinner and music by Jay Parsons. Sunday morning. cowgirls will have the opportunity to polish their horsemanship skills with a Clinic featuring George and Sami Hernandez, Chip Cardon and Jessica Cardon. Cost for the weekend events if $150 for KCCW Members and $250 for non-members. Click the link for the registration information.
KCCW 75th Anniversary Registration Form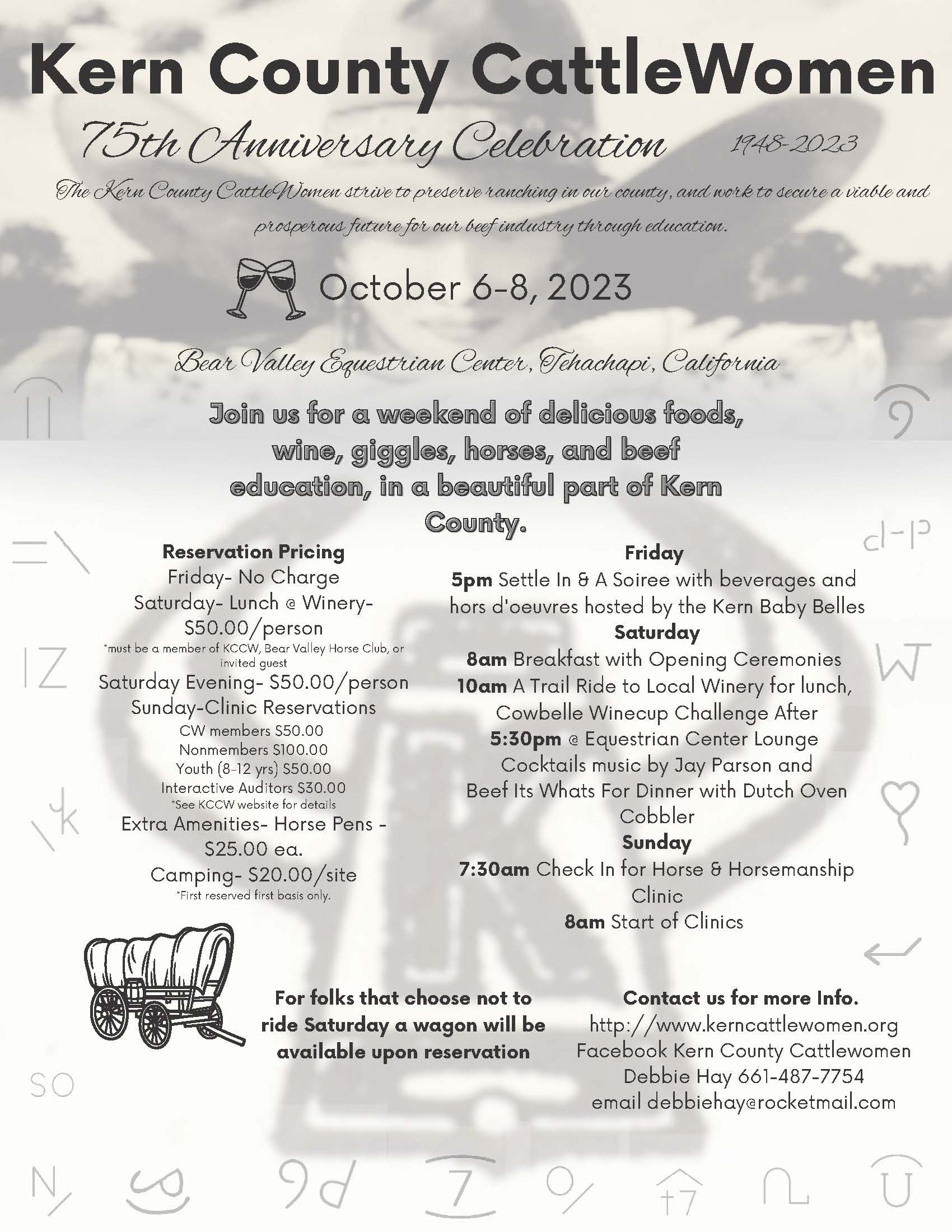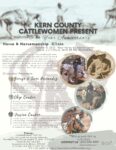 Important Member Information
Bylaws Updates
The Board of Directors are proposing updates to the Kern County CattleWomen bylaws.  This information has been sent to members via e-mail and we are also making it available here on our website for your review.  These updated bylaws will be voted on at the next General Membership Meeting on Tuesday, October 17, 2023.  If you have any questions please contact the KCCW President, April Woody.
Click below to review the bylaws.
2023 – 2024 Membership Application
Click below to download the current membership application to join or renew with the Kern County CattleWomen.