The beef that you eat comes from our families to yours.  More than 97% of cattle ranches in the United States are family owned and operated.  The families that raise beef are dedicated to caring for their animals, land, and continuing the traditions that generations before them began.  Cattle harvest the grass on the hillside and convert it into a nutrient dense food source for us to enjoy.  More than two-thirds of land used for grazing in the United States is not suitable for raising crops, however, cattle are able to graze the grass and provide us with beef.
For more information on how cattle are raised and the people who raise them visit www.explorebeef.org

Join us for a fun evening!

Buy tickets from a local cattlewoman or on our website.
E-mail us for more information.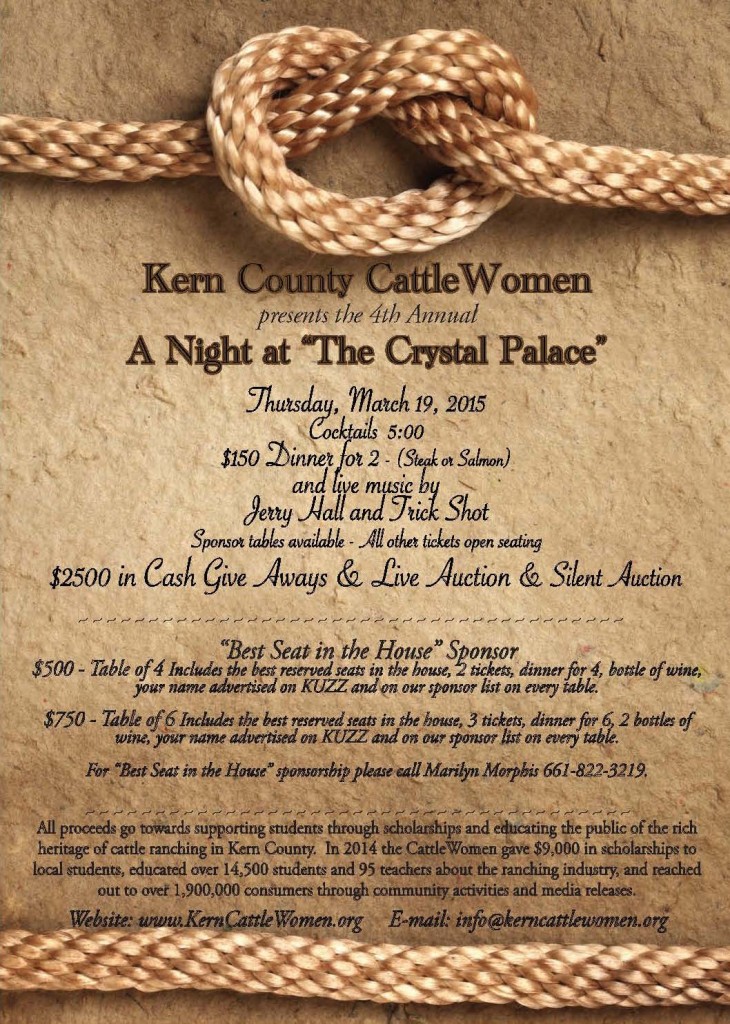 Congratulations to our
2015 Cattleman and CattleWoman of the Year . . .
Keith Grant and Julie Barnett
Thank you for your dedication to our community and to our industry.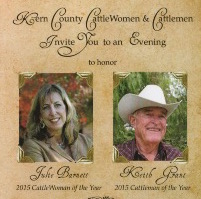 Attention Students :
Apply for the 2015 Ruth Smoot-French Memorial Scholarship
The Kern County Cattle Women are currently offering several Ruth Smoot-French Memorial Scholarships to graduating high school seniors, and current college and university students whose primary residence is in Kern County. Students must have a minimum overall GPA of 2.5 or better.Applicants must also fit in at least one of the following categories: Ag Major, KCCW Relative, Previous Recipient.
Application due by:  February 20th,  2015.
Apply for the 2015 Beef Ambassador Contest
The Beef Ambassador Contest is a contest that is aimed at educating the public about the beef industry.  Contestants will write a response to a published article (provided) to demonstrate their knowledge of the cattle industry. This contest is not limited to students who have a ranching background or are interested in entering the cattle industry.  The contest is open to all youth who want to further their leadership skills and speaking.  The state and national winners will have the opportunity to network with today's agriculture leaders!  Winners of the Kern County Contest will go on to compete at the state level.  State winners compete in the national contest.
Junior Division: age 12-16       Must be 12, but not over 16 by September 1, 2015.
Senior Division: age 17-20       Must be 17, but not over 20 by September 1, 2015.
January 30th – Issues Response Essay Due
February 6th –Interview
February 7th – Winners Notified

RECIPE OF THE MONTH
Slow-cooked Corned Beef in Beer

INGREDIENTS
1 Corned Beef Brisket Boneless with seasoning packet (2-1/2 to 3 pounds)
3 ribs celery, cut into 3-inch pieces
2 medium onions, cut into quarters
2-1/2 cups water, divided
1 bottle (12 ounces) beer
1 pound green cabbage, cut into thin wedges
1 pound red-skinned potatoes, cut into 2-inch pieces
6 to 8 baby carrots, trimmed or 4 medium carrots, cut crosswise into thirds
2 tablespoons butter, melted
Chopped fresh parsley (optional)
Red Currant-Mustard Sauce
1 jar (12 ounces) red currant jelly
3 tablespoons country Dijon-style mustard
 INSTRUCTIONS
Place celery and onions in 4-1/2- to 5-1/2-quart slow cooker; top with corned beef brisket. Sprinkle contents of seasoning packet over brisket. Add 2 cups water and beer. Cover; cook on HIGH 6 to 7 hours, or on LOW 9 to 10 hours, or until brisket is fork-tender. (No stirring is necessary during cooking.)
Meanwhile, place cabbage, potatoes and carrots in 2-1/2 quart microwave-safe dish; add remaining 1/2 cup water.  Cover; microwave on HIGH 15 to 18 minutes or until vegetables are tender, stirring or rearranging once.  Drain; remove and discard cores from cabbage wedges. Add butter; season with salt and pepper, as desired. Toss to coat; keep warm.
Prepare Red Currant-Mustard Sauce. Place jelly in medium microwave-safe bowl. Cover; microwave on HIGH 1-1/2 to 2 minutes or until melted, stirring once. Whisk in mustard. Cover; microwave on HIGH 30 seconds. Stir; keep warm.
Remove brisket and carve diagonally across the grain into thin slices. Serve with vegetables and sauce. Garnish with parsley, if desired.
To cook on range-top, place corned beef in stockpot; sprinkle with contents of seasoning packet. Add celery, onions, 2 cups water and beer. Bring just to a simmer; do not boil. Cover tightly; simmer 2-1/2 to 3 hours or until brisket is fork-tender. Prepare vegetables and sauce as directed.
Nutritional information available at: http://www.beefitswhatsfordinner.com/recipe.aspx?id=2965#NutritionalTab
Serves 6-8

Become a member of Kern County CattleWomen!
Contact us for more information or download an application here.
To learn more about the California CattleWomen visit www.cattlewomen.org.
To learn more about the American National CattleWomen visit www.ancw.org.