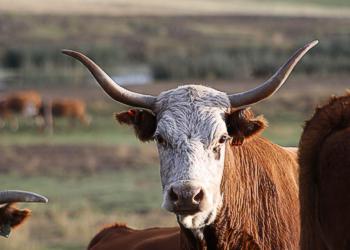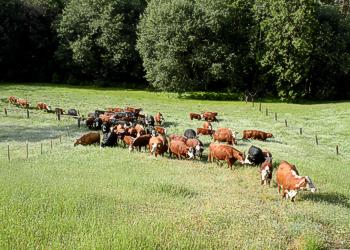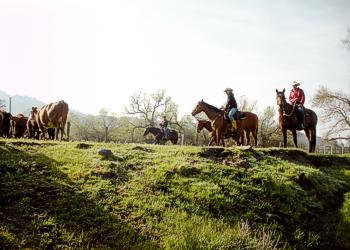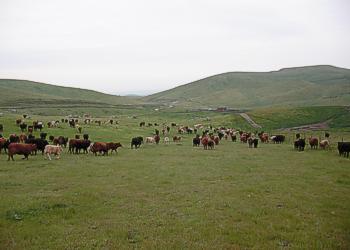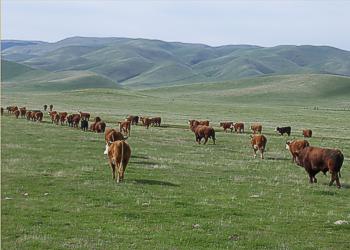 The beef that you eat comes from our families to yours.  More than 97% of cattle ranches in the United States are family owned and operated.  The families that raise beef are dedicated to caring for their animals, land, and continuing the traditions that generations before them began.  Cattle harvest the grass on the hillside and convert it into a nutrient dense food source for us to enjoy.  More than two-thirds of land used for grazing in the United States is not suitable for raising crops, however, cattle are able to graze the grass and provide us with beef.
For more information on how cattle are raised and the people who raise them visit www.explorebeef.org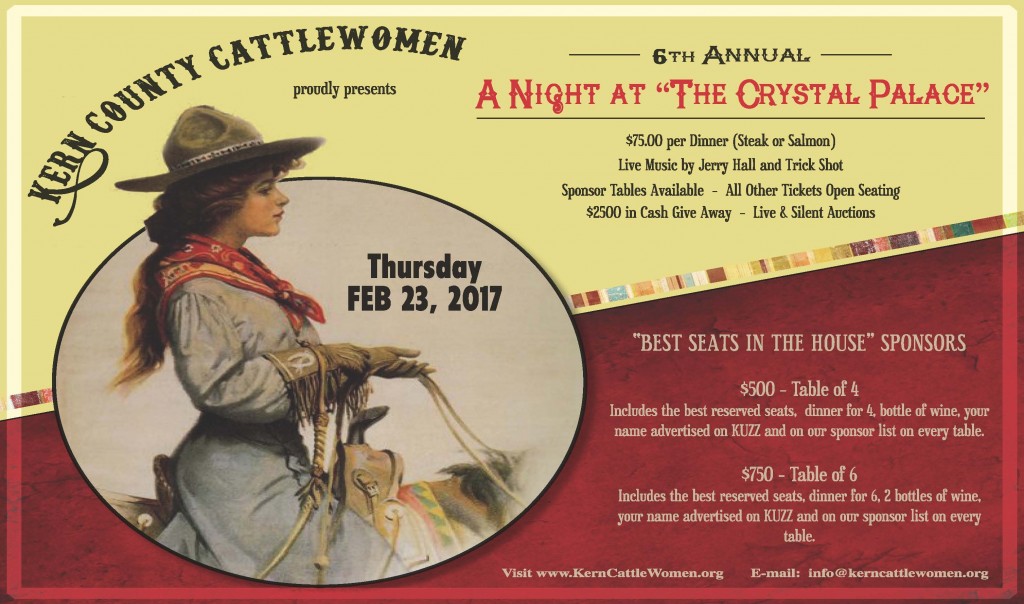 Congratulations to our
2017 CattleWoman and Cattleman of the Year . . .

Debbie Hay & David Olds

Enter the Kern County Beef Ambassador Contest
Educate others about cattle ranching & beef!
Represent Kern County at the California Beef Ambassador Contest!
Junior Division: 12-16 years old
Senior Division: 17-20 years old
Download 2017 Beef Ambassador Application and Information
Due Date: January 27th

 FEATURED RECIPE 


 Celebrate with Tenderloin A La Gisela
Recipe submitted by: Katie Hay Hunter
Ingredients: 
1 whole beef filet
4-6 slices bacon
2 yellow onions
1-2 cloves garlic
1 bunch parsley, chopped
1 green onion, chopped
1/2 tsp dill
1/2 tsp marjoram
1/4 tsp rosemary
1 c bread crumbs
1-2 Tbsp butter
2 cups Merlot
Directions:
Chop bacon and cook a bit.  Save 1 Tbsp fat in ovenproof casserole.  Sprinkle 1/2 of bacon in casserole, place filet (seasoned with salt, pepper, garlic) in a bowl.  Combine remaining bacon, parsley, onions, and remaining herbs, mix well.  Press over the top of the filet.  Sprinkle with breadcrumbs.  Dot with a bit of butter.  Put in preheated 500 degree oven for 10 minutes.  Turn heat down to 400 degrees.  Bake for about 50 minutes longer.  During that time, carefully pour about 2 cups Merlot over meat.  Continue to cook to desired doneness.  Serve with sourdough bread and red wine (Merlot).  Enjoy!
Recipe by Katie Hay Hunter, from Chuck's On, 50th Anniversary Revised Edition, by Kern County Cattlewomen

Become a member of Kern County CattleWomen!
Contact us for more information or download an application.
To learn more about the California CattleWomen visit www.cattlewomen.org.
To learn more about the American National CattleWomen visit www.ancw.org.