The beef that you eat comes from our families to yours.  More than 97% of cattle ranches in the United States are family owned and operated.  The families that raise beef are dedicated to caring for their animals,land,and continuing the traditions that generations before them began.  Cattle harvest the grass on the hillside and convert it into a nutrient dense food source for us to enjoy.  More than two-thirds of land used for grazing in the United States is not suitable for raising crops,however,cattle are able to graze the grass and provide us with beef.
For more information on how cattle are raised and the people who raise them visit www.explorebeef.org

Join Us . . .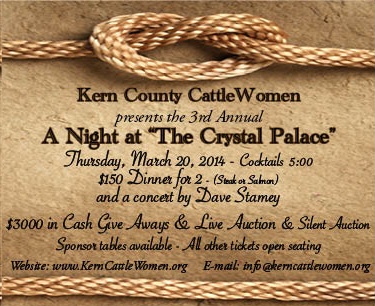 Download a flyer here -  Fundraiser Full Page Flyer or Fundraiser 1/4 Page Flyer
Purchase your tickets today!
A Night at the Crystal Palace Ticket -
Dinner for 2 (Open Seating)
~~~~~~~~~~~~~~~~~~~~~~~~~~~~~~~~~~~~~~~~~~~~
"Best Seat in the House" Sponsor
Table of 4 ~ Includes the best reserved seats in the house,2 tickets,dinner for 4,bottle of wine,
your name advertised on KUZZ and on our sponsor list on every table.
Dinner for 4 (Reserved Seating)

Recipe of the Month
Heavenly Beef Casserole
1 lb. ground beef
2 cloves garlic,minced
1 (15 oz) can tomato sauce
1/2 pt. sour cream
12 oz. small egg noodles
1 lb. grated mozzarella cheese
6 green onions,chopped fine
1 tsp salt
1 tsp sugar
2 oz. cream cheese,softened
2 Tbsp minced parsley
In large frying pan,brown the meat and drain.  Add garlic,salt,sugar,and tomato sauce.  Simmer for 30 minutes.  Meanwhile place cream cheese in a medium bowl and add the green onions and sour cream,mixing thoroughly.  Preheat oven to 350 degrees.  Grease or vegetable spray a 9 X 13 inch baking dish.  Cook and drain the noodles.  Place half of the noodles in the baking dish,cover with half of the cream mixture and top with half of the cheese.  Cover with all of the meat sauce.  Add remaining noodles,cream cheese mixture and mozzarella cheese.  Bake uncovered for 30 minutes at 350 degrees.  Sprinkle with parsley and serve.
This recipe,submitted by Ruth Grisedale, is from the  Chuck's On cookbook by Kern County Cattlewomen.



Become a member of Kern County CattleWomen!
Contact us for more information or download an application here.
To learn more about the California CattleWomen visit www.cattlewomen.org.
To learn more about the American National CattleWomen visit www.ancw.org.