[layerslider id="1″]
The beef that you eat comes from our families to yours.  More than 97% of cattle ranches in the United States are family owned and operated.  The families that raise beef are dedicated to caring for their animals, land, and continuing the traditions that generations before them began.  Cattle harvest the grass on the hillside and convert it into a nutrient dense food source for us to enjoy.  More than two-thirds of land used for grazing in the United States is not suitable for raising crops, however, cattle are able to graze the grass and provide us with beef.
For more information on how cattle are raised and the people who raise them visit www.explorebeef.org


   
Featured Recipe
HOMESTYLE CORNED BEEF WITH DILLED CABBAGE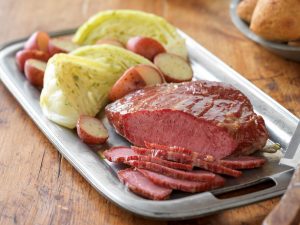 Ingredients:
2-1/2 to 3-1/2 -pound boneless corned beef Brisket
1/4 cup honey
1 tablespoon Dijon-style mustard
Dilled Cabbage:
1 medium head cabbage (about 2 pounds), cut into 8 wedges
3 tablespoons butter, softened
1 tablespoon Dijon-style mustard
1-1/2 teaspoons chopped fresh dill
Directions:
Heat oven to 350°F. Place corned beef brisket and 2 cups water in Dutch oven. Bring just to a simmer; do not boil. Cover tightly and cook in 350°F oven 2-1/2 to 3-1/2 hours or until fork-tender.
About 20 minutes before Brisket is done, steam cabbage 15 to 20 minutes or until tender.
Remove brisket from water; trim fat. Place on rack in broiler pan so surface of beef is 3 to 4 inches from heat. Combine honey and 1 tablespoon mustard. Brush top of brisket with 1/2 of glaze; broil 3 minutes. Brush with remaining glaze; broil 2 minutes or until glazed.
Combine butter, 1 tablespoon mustard and dill; spread on hot cabbage. Carve brisket diagonally across the grain. Serve with cabbage.
NUTRITION:
Nutrition information per serving: 438 Calories; 17g Total Fat; 8g Saturated Fat; 6g Monounsaturated Fat; 146mg Cholesterol; 225mg Sodium; 21g Total carbohydrate; 49g Protein; 4.7mg Iron; 7mg Niacin; 0.7mg Vitamin B6; 195.4mg Choline; 3.5mcg Vitamin B12; 11.1mg Zinc; 44.4mcg Selenium; 2.8g Fiber.
Recipe from: www.beefitshwatsfordinner.com/recipes

Become a member of Kern County CattleWomen!
Contact us for more information or download an application.
To learn more about the California CattleWomen visit www.cattlewomen.org.
To learn more about the American National CattleWomen visit www.ancw.org.