The beef that you eat comes from our families to yours.  More than 97% of cattle ranches in the United States are family owned and operated.  The families that raise beef are dedicated to caring for their animals, land, and continuing the traditions that generations before them began.  Cattle harvest the grass on the hillside and convert it into a nutrient dense food source for us to enjoy.  More than two-thirds of land used for grazing in the United States is not suitable for raising crops, however, cattle are able to graze the grass and provide us with beef.
For more information on how cattle are raised and the people who raise them visit www.explorebeef.org

Join us for a fun evening!

Buy tickets from a local cattlewoman or on our website.
E-mail us for more information.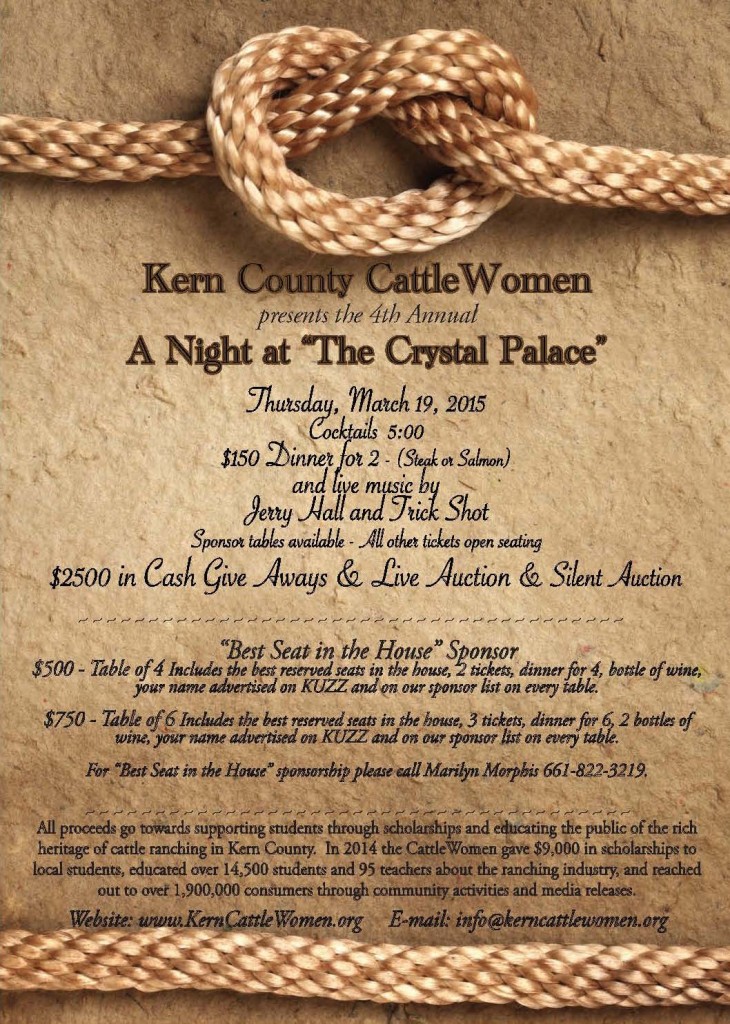 Purchase Your Tickets or Sponsor Table

Congratulations to our
2015 Cattleman and CattleWoman of the Year . . .
Keith Grant and Julie Barnett
Thank you for your dedication to our community and to our industry.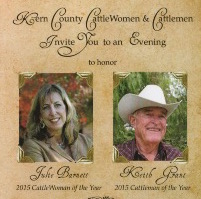 Attention Students :
Apply for the 2015 Ruth Smoot-French Memorial Scholarship
The Kern County Cattle Women are currently offering several Ruth Smoot-French Memorial Scholarships to graduating high school seniors, and current college and university students whose primary residence is in Kern County. Students must have a minimum overall GPA of 2.5 or better.Applicants must also fit in at least one of the following categories: Ag Major, KCCW Relative, Previous Recipient.
Application due by:  February 20th,  2015.
Apply for the 2015 Beef Ambassador Contest
The Beef Ambassador Contest is a contest that is aimed at educating the public about the beef industry.  Contestants will write a response to a published article (provided) to demonstrate their knowledge of the cattle industry. This contest is not limited to students who have a ranching background or are interested in entering the cattle industry.  The contest is open to all youth who want to further their leadership skills and speaking.  The state and national winners will have the opportunity to network with today's agriculture leaders!  Winners of the Kern County Contest will go on to compete at the state level.  State winners compete in the national contest.
Junior Division: age 12-16       Must be 12, but not over 16 by September 1, 2015.
Senior Division: age 17-20       Must be 17, but not over 20 by September 1, 2015.
January 30th – Issues Response Essay Due
February 6th –Interview
February 7th – Winners Notified


♥
RECIPE OF THE MONTH
BEEF STICKY BUNS



A twist on cinnamon buns, these savory buns get a protein boost from homemade beef breakfast sausage and plenty of veggies like mushrooms and spinach.
INGREDIENTS
1 recipe Basic Country Beef Breakfast Sausage (recipe below)
1 cup sliced button mushrooms
3/4 cup diced onion
3 cups fresh baby spinach
1/2 cup reduced-fat shredded Cheddar cheese
1 package (13.8 ounces) refrigerated pizza dough
1/2 cup jalapeño pepper jelly, warmed (optional) or Cream Cheese "Frosting" (optional, recipe below )
 INSTRUCTIONS
Prepare Basic Country Beef Breakfast Sausage. Set aside 2 cups beef in large bowl; reserve remaining beef for another use. Add onion and mushrooms to same skillet sprayed with cooking spray over medium heat; cook 5 to 7 minutes or until vegetables are tender, stirring occasionally. Add spinach to skillet; stir to wilt spinach. Add vegetable mixture to beef; set aside 20 to 25 minutes or until mixture is cooled completely, stirring occasionally. Stir in cheese.
Preheat oven to 425°F. Unroll pizza dough on flat surface; pat or roll dough evenly to 14 x 10-inch rectangle, pinching together any tears, if necessary. Spread beef mixture on dough, leaving 1/2 inch border on short side furthest from you. Starting at closest short end, roll up jelly-roll style, pinching to close. Slice dough into 8 pieces using serrated knife and careful sawing motion; place cut-side-up on greased baking sheet.
Bake in 425°F oven 18 to 20 minutes or until golden brown. Remove buns to cooling rack. While still warm, drizzle with melted jalapeño pepper jelly, if desired.Basic Country Beef Breakfast Sausage: Combine 1 pound Ground Beef (96% lean), 2 teaspoons chopped fresh sage or 1/2 teaspoon rubbed sage, 1 teaspoon garlic powder, 1 teaspoon onion powder, 1/2 teaspoon salt and 1/4 to 1/2 teaspoon crushed red pepper in large bowl, mixing lightly but thoroughly. Heat large nonstick skillet over medium high heat until hot. Add beef mixture; cook 8 to 10 minutes, breaking into 1/2-inch crumbles and stirring occasionally. (Cooking times are for fresh or thoroughly thawed ground beef. Ground beef should be cooked to an internal temperature of 160°F. Color is not a reliable indicator of ground beef doneness.) Makes 2-1/2 cups crumbles

Cream Cheese "Frosting": Combine 1/4 cup softened reduced-fat cream cheese and 1 tablespoon milk in small bowl, stirring until smooth. Drizzle over warmed beef buns.
This recipe and other delicious beef choices are available at www.beefitswhatsfordinner.com
♥



Become a member of Kern County CattleWomen!
Contact us for more information or download an application here.
To learn more about the California CattleWomen visit www.cattlewomen.org.
To learn more about the American National CattleWomen visit www.ancw.org.