The beef that you eat comes from our families to yours.  More than 97% of cattle ranches in the United States are family owned and operated.  The families that raise beef are dedicated to caring for their animals, land, and continuing the traditions that generations before them began.  Cattle harvest the grass on the hillside and convert it into a nutrient dense food source for us to enjoy.  More than two-thirds of land used for grazing in the United States is not suitable for raising crops, however, cattle are able to graze the grass and provide us with beef.
For more information on how cattle are raised and the people who raise them visit www.explorebeef.org

Congratulations to our
2015 Cattleman and CattleWoman of the Year . . .
Keith Grant and Julie Barnett
Thank you for your dedication to our community and to our industry.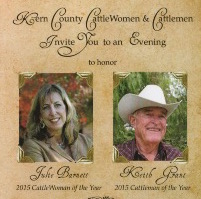 RECIPE OF THE MONTH
Beef Chili Five Ways
INGREDIENTS
1 pound Ground Beef (93% lean or leaner)
1 can (15-1/2 ounces) black beans, rinsed and drained
1 can (14 to 14-1/2-ounce) reduced-sodium or regular beef broth
1 can (14-1/2 ounces) diced tomatoes with green chiles
2 tablespoons chili powder
TOPPINGS
Shredded Cheddar cheese, chopped fresh cilantro, minced green onion (optional)
  INSTRUCTIONS
Heat large nonstick skillet over medium heat until hot. Add Ground Beef; cook 8 to 10 minutes, breaking into 3/4-inch crumbles and stirring occasionally. Pour off drippings.
Stir in beans, broth, tomatoes and chili powder; bring to a boil. Reduce heat; cover and simmer 20 minutes to develop flavors, stirring occasionally. Garnish with Toppings, as desired.                                                                                                                                         Moroccan Variation: Prepare recipe as directed above, adding 1/4 teaspoon pumpkin pie spice and 1/4 cup chopped pitted dates or golden raisins with ingredients in step 2. Serve over hot cooked couscous. Garnish with toasted sliced almonds, chopped fresh mint and Greek yogurt, as desired.Mexican Variation: Prepare recipe as directed above, adding 1 tablespoon cocoa powder with ingredients in step 2. Garnish with chopped fresh cilantro, pepitas (pumpkin seeds) and corn tortilla chips, as desired. Serve with corn tortillas.

Italian Variation: Prepare recipe as directed above, adding 1-1/2 teaspoons fennel seed with ingredients in step 2. Before removing from heat, stir in 3 cups fresh baby spinach. Cover; turn off heat and let stand 3 to 5 minutes or until spinach is just wilted. Serve over hot cooked orecchiette or cavatappi, if desired. Garnish with grated Parmesan cheese and pine nuts, as desired.

Cincinnati Variation: Prepare recipe as directed above, adding 3 tablespoons white vinegar and 1 teaspoon ground cinnamon with ingredients in step 2. Serve over hot cooked elbow macaroni. Garnish with chopped white onion, sour cream and shredded Cheddar cheese, as desired.
Test Kitchen Tips
Cooking times are for fresh or thoroughly thawed Ground Beef. Ground beef should be cooked to an internal temperature of 160°F. Color is not a reliable indicator of Ground Beef doneness.
This and other easy fix beef recipes are available at www.beefitswhatsfordinner.com

Become a member of Kern County CattleWomen!
Contact us for more information or download an application here.
To learn more about the California CattleWomen visit www.cattlewomen.org.
To learn more about the American National CattleWomen visit www.ancw.org.